Advertise With Us

Local Advertising With Yabsta
We offer a full range of advertising tools and opportunities to help get your business noticed. Whether you need print, digital or both, our advertising suite offers something for everyone, and delivers where people are actually looking.
Business Listings
Built

to Deliver
Get Listed
List your business for FREE! Our mobile-ready business listings deliver your key contact information along with a description, logo, reviews, hours, methods of payment, directions and keywords allowing you to get found in local searches.

Boost Your Online Presence
Stand apart from your competitors and expand your listing with consumer engaging and SEO friendly dynamic content. As search results are based on relevancy, this additional rich content is a great way to ensure your listing ranks high in all the searches you want your business to appear in.
Available for purchase with a Listing Package.
Extra Primary and Secondary Keywords

Multiple Phone # and Address

Menu, Product List & FAQ

Premium Business Profile Layouts

Photos/Video

Call-to-Action Buttons

Bullet Points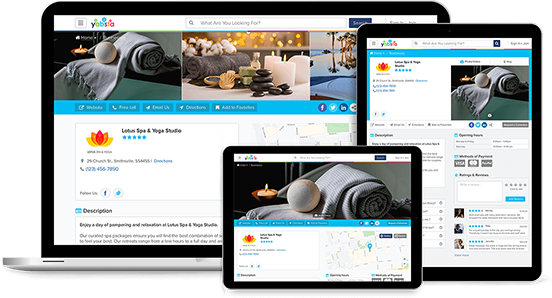 Priority Placement
Boost your listing and take a priority position within search results. In a competitive industry, there may be many other businesses whose listings may organically rank higher than yours. Priority placement allows you to boost your listing to the top of the results and get found first.
Available as an add-on to your Listing Package.
Rank at the top of searches

Low monthly fee per primary

Unlimited impressions

Multiple Levels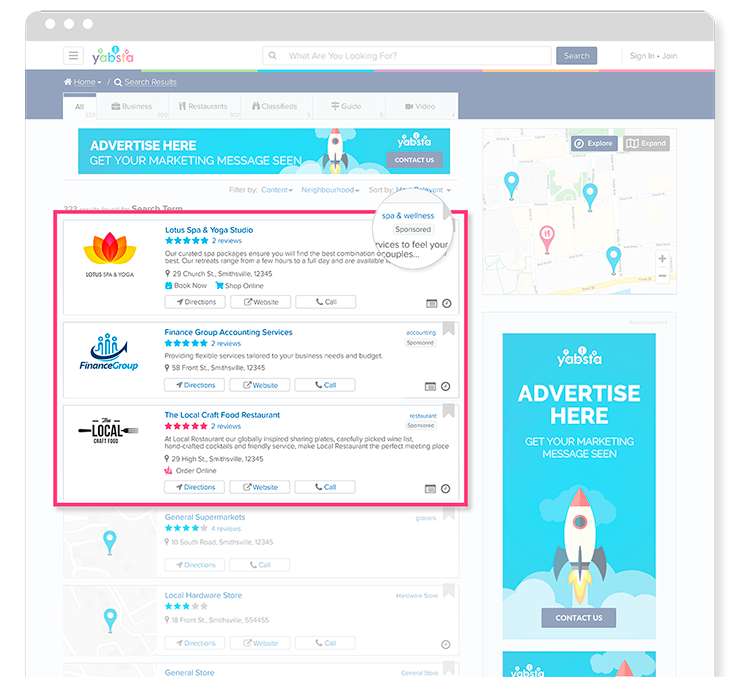 Get Your Business Listed
For Free

! Then Choose a Listing Package to Get Found.
Get Started
Drive Brand Growth and Generate Leads With
Display Advertising
Banner Ads
Advertise your business across the site through visually impactful, highly-effective and measurable banner ads. Target potential customers with the right message, in the right place, at the right time.
Available for purchase from your User Account.
Multiple pricing and placement opportunities: Home page, Section pages, Search, and Run-of-Site

Popular industry standard sizes and formats
Search and keyword driven

Desktop and mobile-optimized

CPM based billing

Analytics and metrics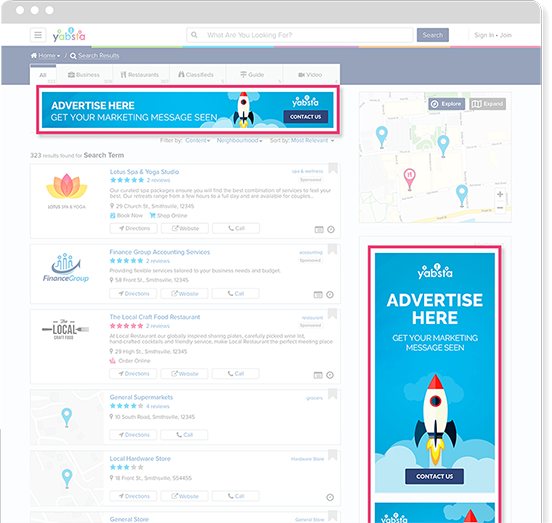 Engage Potential Customers with Dynamic and Effective Content & Native Advertising
Bizcast - Sales, Deals & Specials
Broadcast your deals, specials, promotions and more via a Bizcast post. Displayed directly on your Business Profile and in a Bizcast vertical, Bizcast posts are a great tool to get your special messaging out to the public. Featured Bizcasts appear on widgets directly on the homepage, contextual on sidebars of search results and across the site.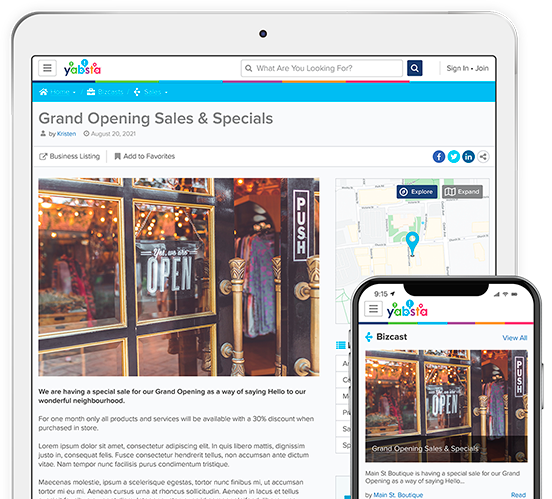 Local Events
Let your customers know what's happening this week at your business with our FREE event posts. Displayed directly on your business profile and in an Event vertical, Event posts are a great tool to promote your one-off, periodic or recurring weekly events to the public. Featuring a monthly calendar, featured upcoming and a daily event widget displaying directly on the homepage and throughout the site.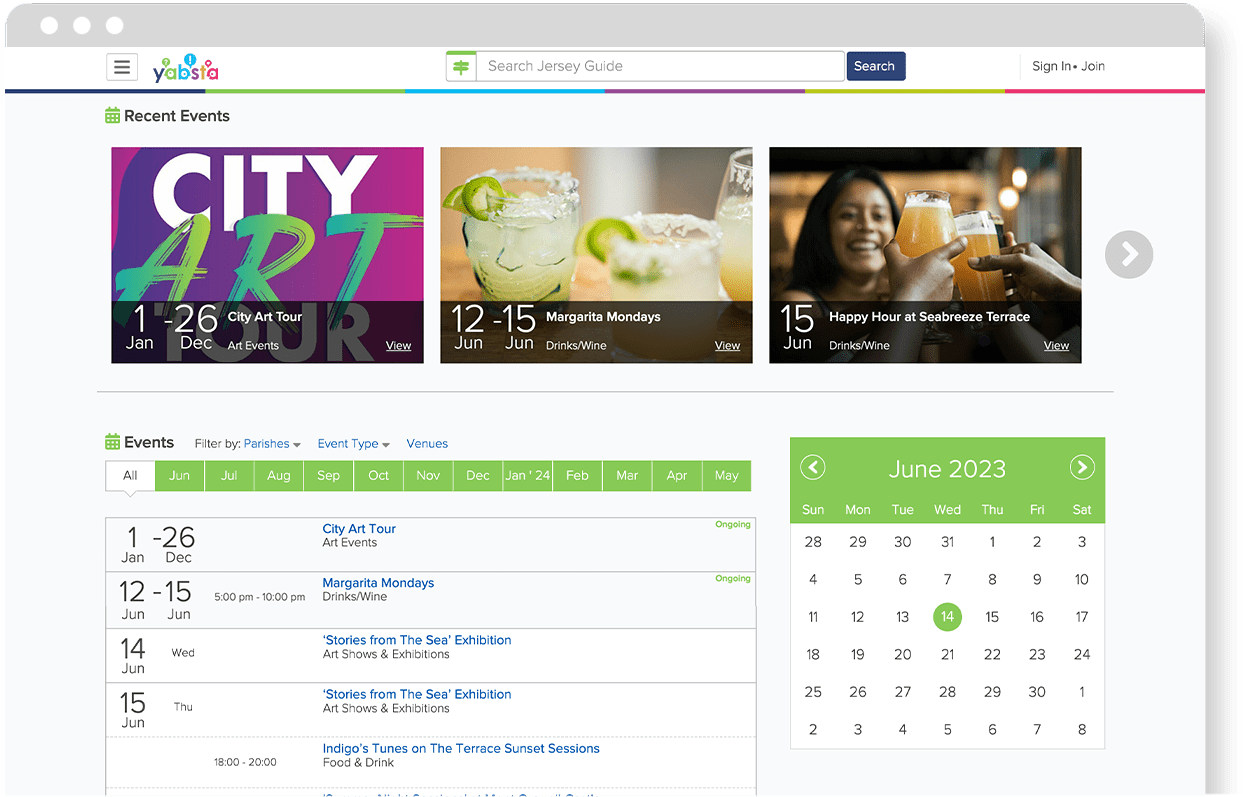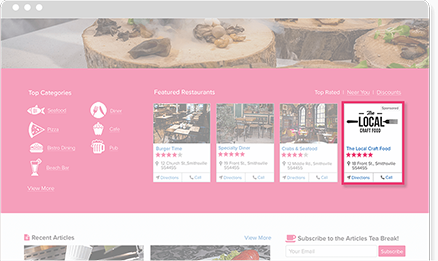 Sponsored Listing
Have your business listing featured in high traffic locations across the site. Found on information strips on the homepage, Business and Restaurant Section landing pages.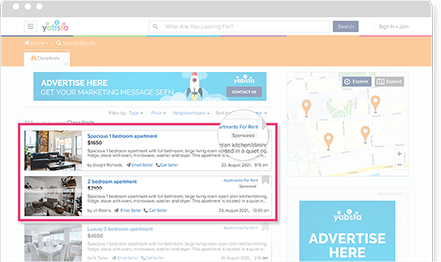 Sponsored Classified
Have your classified listing featured in high traffic locations across the site to help bring more exposure to your post and achieve your goal. Found on the priority placement in classified search results and information strips on the homepage and Classifieds Section landing pages.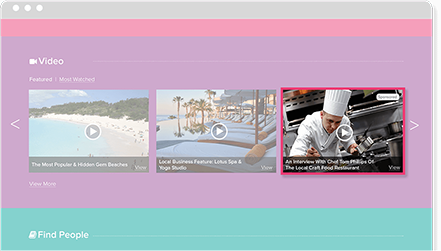 Sponsored Video
Have your video featured in high traffic locations across the site to help bring more exposure to your content. Found on information strips on the homepage and Video Section landing pages.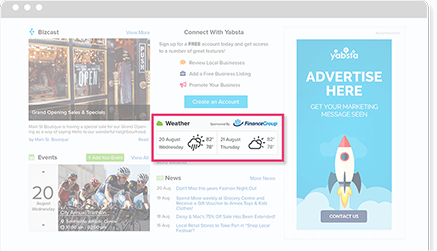 Weather Sponsorship
A unique advertising opportunity, feature your businesses logo on the homepage weather widget. Logos and contextual banners can also be included directly on the weather page, allowing for massive viewing potential.
Sponsored Content
Content is king, and sponsored content is fast becoming one of the most engaging and effective forms of digital marketing.
Work with our team of experts to craft highly compelling content to help drive interest, traffic, social sharing and lead generation for your business products and services.
Articles (single or series), Collections, Video and more.
Increase exposure to potential customers & build brand awareness.
Gather leads and generate business listing and website traffic.
Copy written by our team with your guidance and input.

Inclusion of expertly created images, graphics and other visual elements

Optimised for social sharing and advertising

Robust analytics and metrics allowing you unique insight into your customer base.

Featured on high traffic locations such as the homepage, Local Guide and Articles section landing pages

Shared on our own social channels allowing your message to reach our network of followers as well as through our own Social Media advertising
Contact Us to Start Your
Native or Sponsored Advertising Campaign

.
Let's Talk